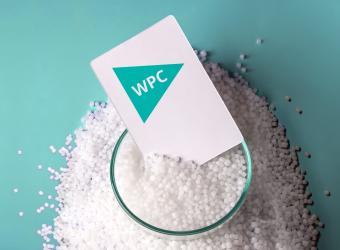 Wood-plastic composite (WPC)
Made of a wood fiber and thermoplastic composite, wood-plastic composites have emerged as a sustainable and cost-effective solution using renewable raw materials
Offers a great deal of versatility: using diverse wood fibers and different compositions can control the material properties depending on application requirements
A sustainable material
Responding to demand for more sustainable materials, wood-plastic composites offer a cost-effective, sustainable material that can be used in a variety of applications. Made of a composite of natural fibers and thermoplastics, it is less dependent on the globally rising oil prices - particularly if the profile contains a fiber content of approx. 60 % to 90 %.
Extremely versatile
By using diverse wood fibers in different compositions, the material properties can be adjusted and altered significantly, resulting in a very broad application spectrum. In general, WPC has a higher stiffness and a notably lower thermal expansion coefficient compared to solid plastics.
Wide industry uses
Wood-plastic composites are used in various industry applications, for example in the automotive industry where WPC profiles are used to manufacture interior door linings or rear window shelves. In the furniture and construction industries, it is often used as a sustainable alternative to tropical woods. A good insulator, it is used in the electronics sector for manufacturing household appliances.
Solutions with wood-plastic composite
Do you have a challenge for us?
Constant innovation is what makes us tick. If you have a conundrum, let us work together to give you the right materials for the job.