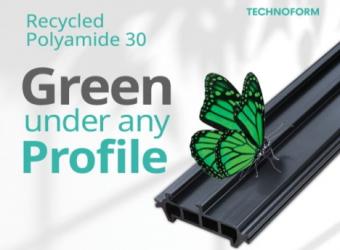 Recycled Polyamide 30
The market we work for, insulation solutions for aluminium windows, doors and facades, is facing a growing demand for better living comfort, increasingly complex and futuristic architectural solutions and, last but not least, reduction of the environmental impact of its products.
We have always focused on sustainability, today even more. Recycled Polyamide 30 is, in fact, obtained by replacing part of the virgin raw material with pre-consumer recycled PA66, the quality of which is ensured by certified recovery processes.
Our materials
Check
The exact amount of recycled content is guaranteed by a rigorous production control plan, subject to annual verification.
Recycled Polymide 30 profiles are certified by TUV Italia according to ISO 14021 (Type II environmental labeling) with a minimum percentage of recycled material, by weight, equal to 30% and are available in both LowLambda, low conductivity, and PA66GF25 versions. standard.
Certification
Certification is a fundamental step to meet the international requirements and offer an innovative and sustainable solution, with the consolidated quality and reliability of Made in Technoform.
The characteristic values of thermal break aluminum systems, defined by the EN14024 standard, are in fact fully respected by the Recycled Polyamide 30 profiles, approved by European reference institutes such as IFT Rosenheim, CSTB and ATg.
We work to become more and more an effective partner in proposing solutions that are not only performing but also sustainable, having one goal at heart: the satisfaction of our customers.
And be Green under any Profile!
Quality
To ensure the high quality of the finished product, the glass fiber remains of primary origin. This means that, as demonstrated by the tests carried out, both the thermal and mechanical characteristics are not influenced by the percentage of recycled raw material used, allowing the RE30 profiles to be used, if required, as a green alternative to current solutions without the need for further tests and certifications.