Optimizing Building Energy Efficiency through High-performance facades
Should I consider thermally broken windows for my building?
Aluminium windows are commonly used in both commercial and residential buildings: they are easy to fabricate, have good mechanical strength and visually appealing. However, aluminium is a good conductor of heat, which results in significant heat gain through the framing member. This means that a higher cooling load is required to cool the building down.
To overcome this, we can tap on the use of a thermal break, which separates the interior and exterior aluminium sections and prevents the conduction of heat due to its thermal insulating material.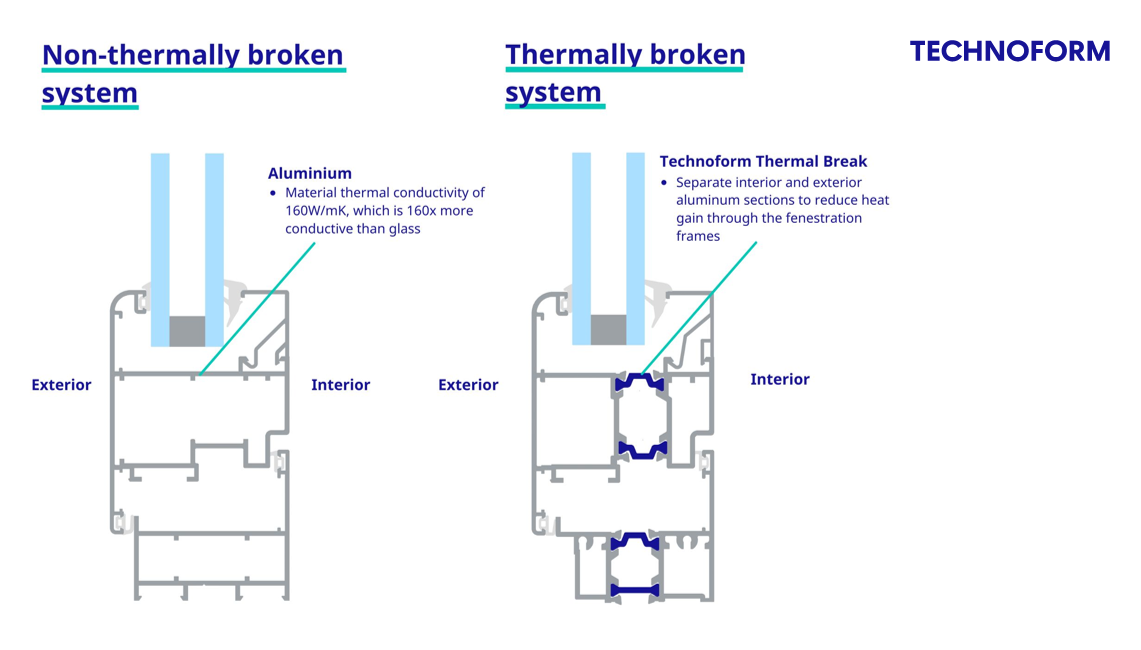 Technoform thermal break profiles are made of glass-fibre reinforced polyamide (PA66 GF25), an engineering plastic with:
Low thermal conductivity (~533 times lower than aluminum)

Excellent mechanical properties
Learn more PA66 GF25 here.
Thermal performance improvement
We conducted a thermal simulation and through the use of a thermally broken system, the frame performance has improved by over 70% from 17.1W/m2K to 3.2W/m2K.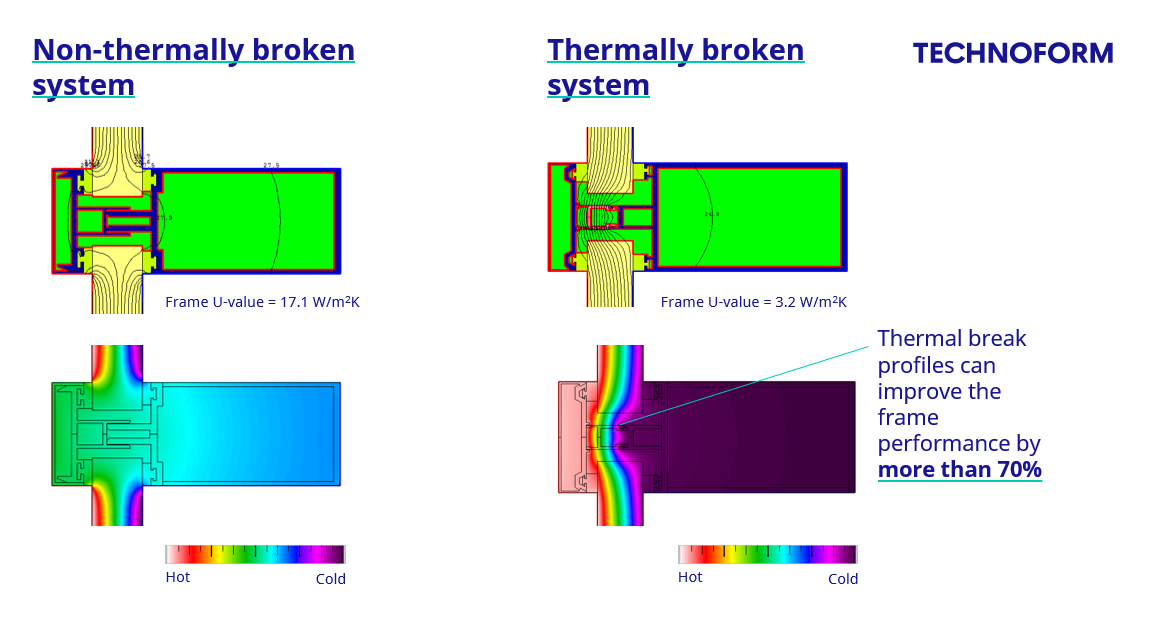 If you have any upcoming projects, we can support you with a thermal simulation report to show the performance improvement with the use of a thermally broken system. Contact us here.
Benefits of thermally broken window systems
How do thermally broken window systems value-add building owners and occupants?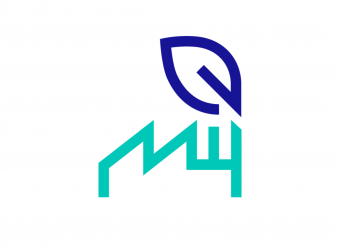 Energy savings for your buildings
Today, building developers are met with rising energy costs coupled with the impacts of climate change. As such, ever more focus in placed on making our buildings greener and more energy efficient.

Thermally broken systems offer massive energy reduction potential, playing a key role in a building's energy concept. More importantly, it is also a key passive design strategy, which allows for energy savings to be reaped over the entire lifespan of the façade.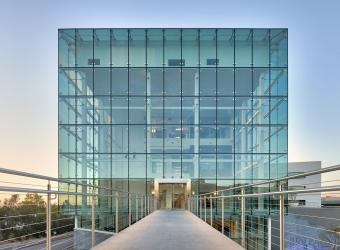 Reduces carbon footprint
As thermally broken systems allow for significant building energy savings, there is a reduction in day-to-day operational carbon.

Technoform thermal break also has various green production certifications worldwide (e.g. Singapore Green Building Product, CradletoCradle, PassiveHouse) ensuring that the embodied carbon is minimized.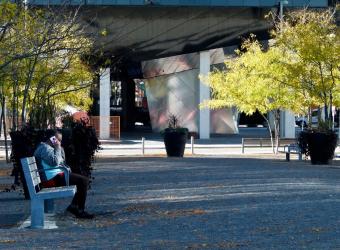 Future-proofing your facades
Our core competence? Making your system future-ready. Over the years, building energy performance requirements have been raised significantly and there has been an increased demand for more energy-efficient solutions and technologies.

You can tap on high-performance thermal break solutions to significantly enhance the performance of your facades, ensuring that you are well-prepared to cope with the needs of increasingly stringent building regulations.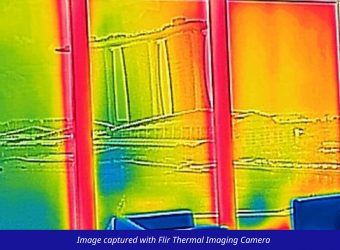 Increase thermal comfort for occupants
With a reduction of heat gain through the fenestration frames, the perimeter space adjacent to the façade will be more comfortable, increasing the availability of useable space in the building.
Read more about the role of windows in thermal comfort here.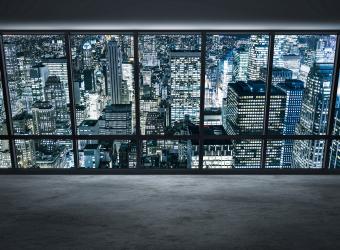 Dual-color window frames
An added benefit of using a thermal break is it allows for dual colours windows since the interior and exterior aluminium frames are now separated. The internal part of the frame can be designed to match the internal colour scheme while the outer part of the frame can adhere to the building exterior design.
Stringent testing to ensure the highest quality
We have always been dedicated to testing our products to the core.
Why is a good thermal break important?

A good thermal break is critical in allowing the facade to serve its intended design use and lifespan, ensuring the safety and durability of the facade. This is especially since building facades are constantly exposed to environmental loads such as wind and temperature changes. Hence, the frames will undergo behavior changes including bending and shearing, and it is important to ensure the mechnical properties of the assembled profiles.
 
Quality is key for us
We have always been dedicated to testing our products to the core, providing various checking and testing procedures to guarantee a product of highest quality - always. Globally, we adhere to the most stringent standards, ensuring consistent quality in all our products.
 
Our plants worldwide are also ISO 9001 certified. Thanks to the standardization of the processes, our products can be made in any of our production plants with no variation in quality.
Transversal Tensile Test
Reference standard: EN ISO 14024
Our product performance:
Significance: External facades are in constant exposure to wind and temperature loading, which will cause tensile stress. It is important to test the assembled profiles to ensure its mechanical performance under these environmental loads.

To simulate temperatures in different seasons, the transversal tensile test is conducted at low temperatures of up to -20 degrees, and high temperatures of up to 80 degrees to ensure that the assembled profiles are still performing as per mechanically designed under extreme temperatures.
Transversal Tensile Test (Ageing)
Reference standard: EN ISO 14024
Our product performance: Δh ≤ 1 mm
Significance: As time passes with constant wind and temperature loading, it is also important to ensure that there is minimal elongation from the assembled profile. Hence, an deformation aging test method under loading is conducted at 80 degrees for 1,000 hours to ensure that there is less than 1mm in elongation.

At Technoform, our use of high quality materials ensures that the profile elongation after aging is below the requirement of 1mm.
Shear Strength Test
Reference standard: EN ISO 14024
Our product performance: TcNRT ≥ 24 N/mm
Significance: Besides tensile stress acting on the façade, longitudinal stresses are also present due to the difference in temperature between the external and internal frame. As a thermally broken frame's advantage is to isolate the heat on one side of the frame, the heat trapped may increase the frame temperature to as high as 80 degrees, causing expansion which might lead to shearing. Hence, it is important a conduct tests and ensure the assembled profile is able to withstand the shearing effect.
In EN14024, loading is placed on two ends of the aluminum profiles at a slow feed rate and the measurement is recorded.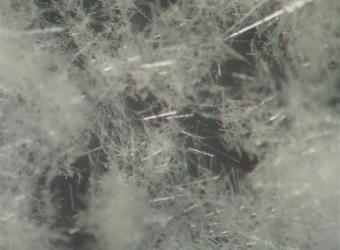 Glass fibre purity check
Significance: After conducting various tests on different materials, PA66 GF25 has been found to be the ideal choice for thermal break profiles. This hybrid material is a combination of Polyamide 66 with 25% glass fibre content acting as the strengthening agent.

Technoform uses long virgin glass fibre to ensures good mechanical properties. We also tap on decades long knowledge and technology to successfully weave the long chain of fibres into the polyamide, allowing for excellent mechanical strength that meets and even go beyond the requirements of global standards.
I want to use your thermal break in my window and facade systems. How can I start?
Keen to incorporate our thermal break profiles in your window and facade systems? Or perhaps you are looking to develop your own thermally broken systems?  We would love to get in touch with your team for a discussion!
Let's schedule a discussion!