Tailored plastic profiles by Technoform installed in the world's largest and tallest observation wheel
Lohfelden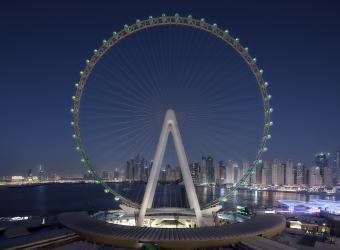 Technoform helped the VAHLE Group prepare its system for use in Dubai's extreme climatic conditions by providing plastic insulating profiles. The project was successfully completed in the fall of 2021.
The customer
The VAHLE Group specializes in power and data transmission systems for mobile industrial applications. The headquarters of the internationally operating company is located in Kamen in Westphalia. VAHLE is represented by 13 subsidiaries and agencies in more than 50 countries worldwide and reports annual revenues of more than 140 million euros, employing more than 750 people.
The project
Ain Dubai opened as the latest iconic landmark in Dubai and, at more than 250 meters high, is the largest and tallest observation wheel in the world - significantly larger than the 165-meter-high Singapore Flyer and the 135-meter-high London Eye. The 48 uber-luxurious cabins can accommodate up to 1,750 visitors at one time, each with a floor space of 40 square meters for a wide variety of uses far beyond mere tourist purposes.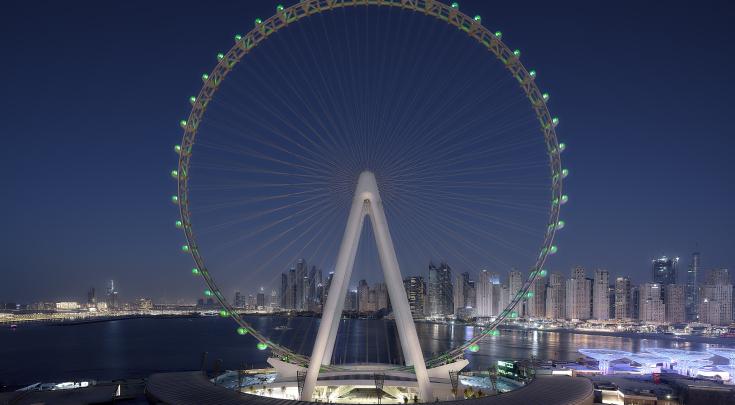 © AIN DUBAI - For more information on Ain Dubai, please visit www.aindubai.com
The VAHLE Group installed 15 kilometers of special conductor systems for the power supply of the passenger cabins and the lighting system in the entire observation wheel equipped with about 65,000 LEDs. To provide electrical insulation for the conductor system, Technoform has developed profiles made of thermoplastic material, customized to fit the VAHLE system, with tailored geometry and produced in a specialized extrusion procedure.
The challenge
The plastic material used for the profiles must provide reliable electrical insulation at a current strength of up to 1500 amperes and also meet a number of other requirements, in particular with regard to fire protection, resistance to extreme climatic conditions, and even the optical appearance of the profiles: 
Electrical properties: tracking resistance (CTI > 400), dielectric strength (kV/mm > 10).
Mechanical properties: Resistance to abrasion, scratching and impact.
Fire protection: flame resistance class V0
Climate: resistance to UV radiation, salty air (near the sea) and sand in the air (sandstorms) and high humidity (up to 80%)
Thermal properties: temperature resistance from -10 to 120°C
Optics: color RAL 9016, color fastness against UV radiation
Individual geometry: tailored to the VAHLE system
A high-performing and sustainable solution for very specific requirements depends on choosing the proper plastic material and processing it to the highest level of precision.
Dr. Thorge Brünig, Managing Director at Technoform
The solution
In close cooperation with VAHLE, the Technoform specialists both assisted in choosing the best-suited plastic material and produced the insulating profile for the Ain Dubai power supply by extrusion.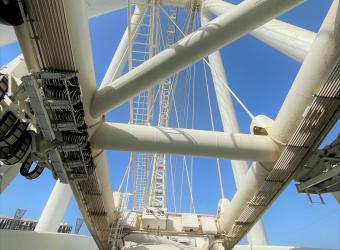 Selecting materials:
Standard polymers do not meet all the required electrical, thermal and mechanical properties. Therefore, a modified polyamide type is used in this project. As part of the selection process, a broad range of different plastic types were sampled and tested in a climate chamber to ensure that all requirements are reliably met under real conditions.
Production:
In addition to specifying the appropriate plastic material, processing of the material also played a key role in this project to achieve maximum color fastness when exposed to high levels of UV radiation and the desired surface finish of the profiles. For this purpose, Technoform uses a special extrusion technology.
Picture: VAHLE's special conductor system equipped with Technoform's plastic profiles on the outside of the steel structure - © VAHLE
With the help of Technoform's plastics specialists, we succeeded in adapting our innovative conductor rails specifically to the environmental conditions of Ain Dubai.
Jaroslaw Warzecha, Director Systems Sales, Paul Vahle GmbH & Co. KG
About Ain Dubai
Ain Dubai is the world's largest and tallest observation wheel, standing at over 250 metres. The record-breaking monument offers unrivalled and unforgettable social and celebratory experiences as well as 360-degree views of Dubai in premium comfort – all at heart of Bluewaters, the sophisticated, must-visit island destination. The 48 passenger cabins that circle the enormous circumference of the wheel have capacity to carry more than 1,750 visitors at once.
A prestigious asset of Dubai Holding's entertainment portfolio, Ain Dubai has quickly become recognised as one of the Middle East's most remarkable landmarks which has elevated the aesthetic of Dubai's skyline. The world-class, landmark entertainment venue delivers extraordinary and customisable one-of-a-kind experiences for every occasion. Ain Dubai plays a strategic role in supporting Dubai's long-term vision to strengthen its global position as a key tourism hub, continuing to build on the emirate's reputation as a leader in the global leisure and entertainment landscape. 
To find out more about AIN Dubai, please visit https://www.aindubai.com/ 
@aindxbofficial