Calculations made simple: The right calculator for every challenge.
Our calculators for the thermally optimized glass edge bond
In addition to energy efficiency, quality and durability play an increasingly important role in the sustainability of insulating glass units (IGUs).
In sustainable construction, a thermally optimized as well as optimally coordinated glass edge bond with multiple glazing is therefore indispensable.
The individual components such as spacers, sealants, desiccants, connectors and glass need to work perfectly together as one system in order to meet the highest demands and maintain thermal performance over the lifetime of the insulating glass unit. 
Use our calculators to generate a suitable solution for you in terms of optimized insulating glass units and resulting energy savings.
Gas content
Calculate the heat transition coefficient of an insulating glass unit (Ug-value) according to EN 673:2008 depending on the gas content between the glass panes.
The space between the panes of an insulating glass unit is filled with argon gas. Depending on the quality of the workmanship, this gas can escape over the years. In case of gas loss, the Ug-value of the glass unit decreases, it insulates worse over time.
Therefore, this gas loss has a direct influence on the energy costs and sustainability of a building. A constant Ug-value in insulating glass is accordingly important for people and the environment.
A high-quality insulating glass unit can be expected to have a service life of at least 25 years, without higher gas loss.
Heat, cold and pressure fluctuations cause stress on the IGU, which can have a negative effect on the gas content. For the IGU to retain the gas in the glazing cavities for longer, it is essential to choose the right materials in addition to clean processing.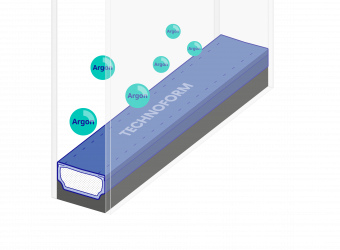 With the gas content calculator, you can quickly and easily quantitatively assess the impact that the quality of an insulating glass unit has on energy costs over time. 
Would you like to illustrate to your customers that the investment in a high-quality glass pane will pay off? 
Then use our gas content calculator.  
To the gas content calculator