A well designed and manufactured edge bond determines the durability of an insulating glass unit. Only when the individual components such as spacers, sealants, desiccants, connectors, and glass interplay perfectly, can we achieve optimal performance.
Focusing on the next level of excellence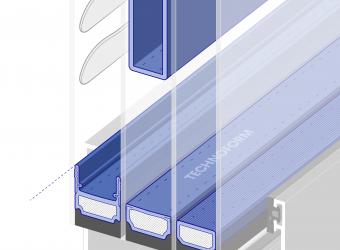 In order to deliver optimal performance, the edge bond must simultaneously fulfill multiple needs.
It must stay flexible, even in extreme cold and heat, to avoid glass breakage. The edge bond must also minimize moisture ingress into the insulating cavity to prevent failure and maximize the insulating glass unit's service life. The edge bond must also manage gas retention to maintain insulation performance over the lifetime of the sealed unit.
The edge bond should be considered as a high-performing system, not a collection of components – spacer, desiccant, sealants, connectors, etc. – that can be interchanged without consequence. The service life of an insulating glass unit depends significantly on its edge bond design, particularly on the type, quality and quantity of materials used and their interactions. 
At Technoform, we create high-performance edge bond systems, including components which are optimized for use with our spacers. The result: higher insulating glass durability and optimized service life – an advantage for insulating glass fabricators, window manufacturers and end-users alike, who can rely on sustainable solutions of excellent quality.
We are your partner for durable thermally optimized edge bond solutions.
Find our current edge bond solutions here