An optimally designed and well-composed edge bond determines the quality and durability of a window. Only when the individual components such as spacers, sealants, desiccants, connectors and glass interplay perfectly, we can achieve maximum efficiency.
Focusing on the next level of excellence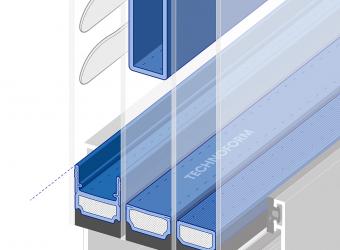 One aspect of this is the stability and mechanical properties of a window. Here, the edge bond must fulfil different demands: it must stay flexible even in extreme cold and heat to avoid glass breakage. At the same time a permanent gas tightness is required to guarantee the best insulation for long-term use. Furthermore, it must prevent incoming moisture which can lead to unpleasant milky or blind glasses as well as condensation.
Now we are working on components which are adapted to our spacers and for whose quality we guarantee. The result: higher durability of the insulating glass for long-term use – an advantage for window manufacturers and final customers alike, who can rely on sustainable products of excellent quality.
Since the improvement of the single components has reached its limits, our focus has been on the edge bond in total. The merging of the components with each other and with the sash creates new opportunities for further sustainable developments. Only then the potential of the edge bond can be fully exploited.
We are your partner for durable thermally optimized edge bond solutions.
Find our current edge bond solutions here