Clinical precision for medical applications
In support of sterility
Extremely high demands are made on sterility in a clinical environment. To reduce the use of aggressive materials for cleaning and sterilization, antimicrobial additives are to the plastic mixture during the production process to reduce bacterial colonisation of the produced profile and increase patient safety.
Heat and chemical-resistant
The use of aggressive cleaning materials to keep medical devices sterile can lead to corrosion of metal surfaces. By contrast, our plastic profiles demonstrate high levels of chemical resistance to withstand aggressive substances in the cleaning and sterilization process, making their surfaces significantly less vulnerable. Our plastic materials also offer high levels of heat resistance – the plastic profiles can even be sterilized at a temperature of 446 °F (230 °C) for improved safety.
Increased durability
In the everyday hospital environment, metal profiles tend to show surface damage relatively quickly through continuous stress and wear. Not only is this visually unappealing, it can also result in metal corrosion in the areas displaying surface damage. Our versatile plastic components can be completely dyed (in any color), eliminating the need for painting or anodizing and making wear and tear less obvious.
Broad potential
The scope for plastic components in medical engineering is huge, with several industry-specific scenarios where plastic profiles offer a safe and viable alternative to current methods. In X-ray shielding, for example, substituting the lead plates commonly used in X-ray devices with tungsten-filled plastic components, eliminates the need for using lead, which is harmful to both humans and the environment.
Plastic profiles for the medical engineering industry
In the highly demanding clinical environment, we know that surfaces can all too easily harbor dangerous microbes and cause infection. Ensuring that components used in the medical industry are clean and sterile is paramount to patient safety. Our solution: durable, antimicrobial plastic materials made to meet stringent industry requirements.
By adding antimicrobial additives in the production process, you benefit from a material that greatly reduces the need for aggressive cleaning and sterilization materials by warding off bacteria propagation. Moreover, with excellent heat and chemical resistant properties, our plastic profiles offer a highly resilient solution that can be fully customized to your individual needs, including color preference—the use of varying color systems is useful for example for guidance in nurseries or hospitals.
Solutions for medical engineering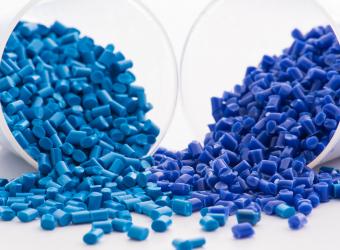 Materials for Medical Engineering
Hard-wearing, high-performance materials for clinical applications. Take a look at the materials that make our medical engineering solutions possible.
Learn more