Review: glasstec VIRTUAL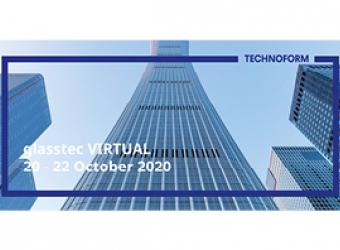 From October 20th to 22nd Technoform was exhibiting at the first digital version of #glasstec. Although the "glasstec VIRTUAL" was a new experience for everyone involved, it was a complete success even in this unusual format.
Over 10.000 experts from over 110 countries make use of the content offered on this platform. The precentage of international visitors was at 73% (the top-ranking visitor countries were USA, Italy, UK, India and Germany). Over 120,000 page impressions underscore the avid interest taken by the glass community in the content of glasstec VIRTUAL. At the Exhibitor Showroom, 800 exhibitors from 44 countries presented their products, solutions and applications. More than 5.000 people participated in the interactive formats.
Our web sessions "Thermally optimized edge bond solutions for insulating glass" and "Embodied vs. Operational Carbon: The importance of IGU durability" are available on demand.
We are looking forward to see you at the next