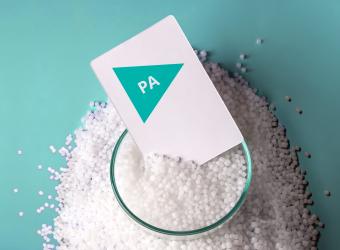 Bio Polyamide (PA)
High-precision bio-based Polyamide offers a sustainable solution using a bio-based polymer derived from plants
Reduces CO consumption during profile production by 62 % and fossil energy consumption by 23 %
Resulting profiles provide additional benefits for achieving environmental certification, e.g. LEED or BREEAM, for construction projects
Unlimited recyclability
All standard program profiles are available in this environmentally-friendly material
High mechanical stability
Polyamides offer high levels of heat resistance, stiffness and high mechanical stability for a durable solution. Our bio polyamide is ideal for the production of structural and reinforcement profiles for an environmentally-friendly solution with no compromise on performance.
Heat resistant for improved conductivity
Offering excellent heat resistance, polyamides can be used in the toughest of conditions, for example exposure to hot and humid environments. In the windows, doors, and facades industry, the high temperature resistance of PA reduces the rate of conductivity (U-value), insulating the energy flow from the outside of a window, door or facade to the inside.
Ease of processing
The uncomplicated processing of polyamides is another key benefit. With various properties that can be individually adapted according to the specific project and need, polyamides are the perfect choice for the manufacture of special extrusion profiles.
Solutions with Bio Polyamide (PA)