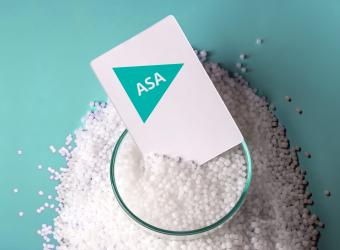 Acrylonitrile styrene acrylate (ASA)
ASA offers high levels of resistance to atmospheric influences and UV radiation. Hard and impact-resistant, with reduced appearance of scratches, it is ideally suited to the production of durable profiles for exterior use
With its high levels of chemical and heat resistance ASA is also well-suited to use in the automotive industry, where it can be used in the production of housing-type components and vehicle body types. These properties also make it ideal for electrical applications such as washing machine covers, food processors, sewing machines or window frame surfaces
Especially weatherable
ASA offers high stability, viscosity and stiffness and excellent resistance to atmospheric influences, UV radiation and greases and oils. Highly heat resistant, it can be used at temperatures of up to 100 °C (212 °F), making it ideally suited to exterior applications. Even in the toughest of outdoor conditions, this durable material retains its original color over the years, with no yellowing.
Heat, UV and chemical-resistant
In the automotive industry, ASA is ideally suited to the production of housing-type components that are frequently exposed to heat and/or solar radiation. This includes vehicle body parts like mirror frames, radiator grilles, air grilles, lamp housings, triangular windows or window frame surfaces and cable connection housings.
High quality profiles
Our high-end extrusion process facilitates the production of smooth and high-gloss ASA components with exact contours made to suit your individual requirements. The surfaces mask the appearance of scratches for a long-lasting finish.
Solutions with acrylonitrile styrene acrylate