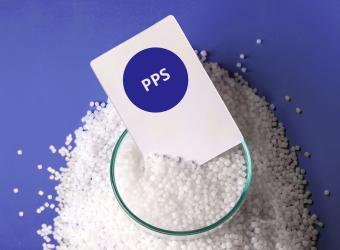 Polyphenylene sulfide (PPS)
Ideally suited to the production of challenging extrusion profiles thanks to its highly resistant characteristics: can withstand high temperatures, pressure and the impact of aggressive chemical substances
A high-performance plastic that is especially suited to applications in the automotive, electronics, aviation and building equipment industry. PPS meets all required standards and specifications in these industries
Flame-resistant by nature, it meets the fire testing standard V-0 according to UL94
Strong and stable
PPS can withstand very high pressure and the impact of aggressive chemical substances. This plastic is especially hard and stiff, plus it has a high creep resistance. This way, even if forces act on it over an extended period, it does not deform.
Heat-resistant
You can also use a PPS plastic profile at temperatures of up to 240 °C without it melting, smouldering or deforming. This plastic is flame-resistant by nature and thus meets the fire testing standard V-0 according to UL94. PPS does not dissolve in any organic solvent below 200 °C and is also not attacked by acids, bases, alcohols, bleaching agents and many more chemicals at elevated temperatures over a longer period.
A strong economic alternative
With its significantly lower material price, PPS is an alternative for instance to polyetherimide (PEI) which is frequently used in the aviation industry – all without having to compromise in terms of functionality. The characteristics of this high-performance plastic make it especially suited to be applied in the automotive, electronics, aviation and building equipment industry, meeting all required standards and specifications in all these industries.
Solutions with Polyphenylene Sulfide (PPS)