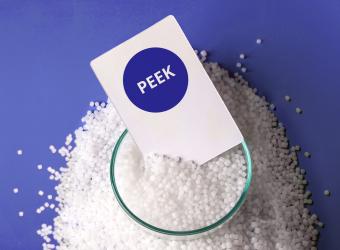 Polyether ether ketone (PEEK)
Offering a unique combination of excellent mechanical properties, high temperature resistance and outstanding chemical resistance, polyether ether ketone (PEEK) is one of the most popular high-performance plastics
With excellent durability, stability and fire-resistance, it can be applied universally for heavily loaded parts and is frequently used in the aerospace, nuclear technology and automotive industries
Durable and stable
Polyether ether ketone permanently retains its stability even at temperatures up to 260 °C (500 °F), temporarily almost 340 °C (644 °F), and is the ideal solution across various industries. With high levels of chemical resistance, this high-performance plastic is resistant to non-oxidizing acids, hot water, steam and concentrated bases, as well as to most organic solvents, lubricants and greases. It is also resistant to high-energy radiation such as gamma and X-rays.
Broad application range
Popular in the aerospace, nuclear technology and the automotive industries, PEEK meets rigorous requirements as a flame-resistant and self-extinguishing material. Its durable properties also make it suited to use as an insulation material in power supply, semiconductor and high-voltage technology applications in mechanical and plant engineering.
Heavy-duty profiles
This high-performance material is perfect for the production of heavy-duty plastic profiles to suit a broad range of needs and applications. Our innovative, high-end extrusion method delivers reliable, quality profiles. The perfect fit for any project.
Solutions with polyether ether ketone (PEEK)