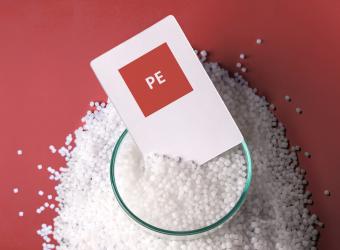 Polyethylene (PE)
The standard plastic polyethylene is the most widely used plastic globally. Found in various everyday items, for example in the forms of foils, shopping bags or plastic bottles for cleaning agents, it is also widely applied in industry where it can be used for cable coatings or even in toy production
Well suited for extruding plastic profiles and pipes, PE is often used in the production of everyday blow-moulded parts such as canisters and bottles, storage containers, drinking water and gas pipes and packaging
Broad range of options
Polyethylene is highly elastic, has a high impact strength at low temperatures and good slide friction properties and can be stretched to form extremely strong reinforcement fibers. Its stability is based on extremely high crystallinity resulting from the processing technique. Depending on the type, the maximum permanent utilization temperature is between 60 °C to 85 °C (140 °F to 185 °F).
Chemical resistance
Polyethylene demonstrates excellent electrical insulation properties and a good chemical resistance to many acids, bases, oils and greases. While low density polyethylene (PE LD) is only resistant to hydrocarbons to a very limited extent, high density polyethylene (PE HD) can also be used for fuel containers.
Additives for enhanced performance
While strong oxidants, such as highly concentrated inorganic acids and halogens attack polyethylene, during the specialist extrusion process additives, such as flame retardants and UV absorbers, can be added to enhance the performance of PE profiles.
Solutions with polyethylene