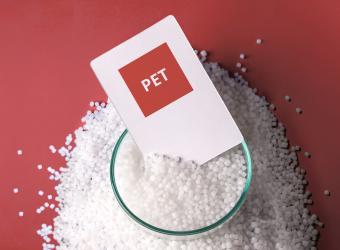 Polyethylene terephthalate (PET)
Perhaps best-known as the material from which PET plastic bottles and polyester fibers in clothing are made, this versatile plastic is found across a range of application fields, including the sliding parts such as bearing bushes and slide rails, components in food technology systems, and electrical insulation parts. It's even used to produce materials for film
With high wear resistance and excellent stability PET can be used to produce durable, break-through profiles with high levels of dimensional stability
Stable and unbreakable
A standard plastic with good matching properties and optimal electrical insulation, PET is processed and applied in numerous plastic profiles. Combining good sliding properties with high break resistance and dimensional stability, it offers a durable solution across several areas of industry.
Prevents water absorption
PET-based products are frequently used for applications requiring dimensional stability and the prevention of water absorption, for example plastic bottles. While resistant to oils and greases, it is not suitable for use with hot water, concentrated bases and acids or media with an alcohol content of more than 50 %.
A versatile solution
PET is also commonly used for sliding parts such as bearing bushes and slide rails. It is perfectly suited for snap-in installations, electrical insulation parts with cold water contact and for various system parts with a slide effect. Used to produce high-gloss visual components with low scratch visibility over time (since the material is completely dyed and not simply painted on the surface), PET is well-suited to many universal applications, such as components in food technology systems.
Solutions with polyethylene terephthalate