Plastic replaces corrosion-resistant metal in applications within aggressive environments – case study: W. L. Gore & Associates
Lohfelden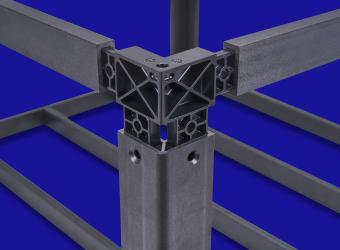 High-alloy metal has long been considered the material of choice for applications in aggressive environments such as flue-gas cleaning. However, what is often overlooked is that thermoplastics such as polyphenylene sulphide (PPS) are in no way inferior to commonly used metals when it comes to applications involving high chemical, thermal and mechanical stress. In fact, thermoplastics even offer benefits due to their more flexible processability. 
We helped W. L. Gore & Associates to replace all their corrosion-resistant metal with engineered plastic in the framing system of the GORE mercury filter. This example illustrates the performance of plastic, showing that it could also be used in numerous other applications and industries.
Mercury:
a threat to both health and the environment
Mercury is a highly toxic heavy metal which is lethal in high doses. In the environment, mercury spreads widely through water and air and is absorbed by both animals and plants. More than 20 per cent of the world's mercury emissions occur as waste from the burning of coal to generate electric power. 
In 2013, 128 countries signed the so-called Minamata Convention with the aim of curbing mercury emissions worldwide. New EU regulations to limit mercury emissions are due to come into force by 2021. According to several studies, 85 per cent  of mercury emissions can be reduced through modern technology.
The mercury filter produced by W. L. Gore & Associates offers such technology for the reduction of mercury emissions from power plants, incinerators and other industrial sources.
The technology:
GORE® mercury filter
The GORE® Mercury Control System (GMCS) is a fixed sorbent system for capturing elemental and oxidised gas phase mercury from industrial flue gas.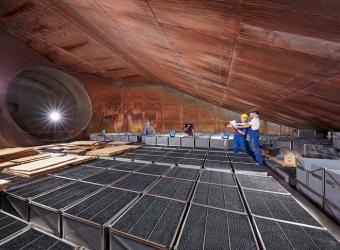 The system is based on stackable modules that can be installed into a flue-gas cleaning system, depending on requirements. For structural reasons and due to the aggressive surrounding environment, high-alloy steel is used in manufacturing the extruded sections and corner connectors that make up each frame.
 
This technology centres around a fluoropolymer-based material developed by W.L. Gore, a sorbent polymer catalyst (SPC) composite material. Not only does the sorbent in this material separate elemental and oxidised mercury from the flue gas stream and then trap it. It also desulphurises the gas stream by converting sulphur dioxide into liquid sulphuric acid.
The aim:
simplified manufacturing and replacement of metal components with plastic
To ensure that the GMCS modules can be operated without maintenance for many years, the relevant materials need to withstand not only high chemical and thermal stress, but also mechanical stress. Such stress can be caused either by the stacking of modules or while they are being transported, handled or installed by assembly or operating staff.
The modules have been designed to ensure maximum stability and the longest possible service life. Whenever modular frames are manufactured, it is best to do without corrosion-resistant metals that are difficult to process. This would make it possible to handle the assembly on site in less developed countries and at remote locations, and the engineers at W. L. Gore & Associates are therefore continually optimising components and materials. 
The medium-term aim of working with Technoform is to replace the metal with components made of durable plastic. At the same time, an alternative plastic-based solution should help make the components easier to assemble and to adapt them more flexibly to new requirements.
The challenge:
finding the right plastic for high chemical, thermal and mechanical stress.
So far the requirements concerning chemical, thermal and mechanical stress in flue-gas cleaning have been met by using corrosion-resistant metal for the frames of the GMCS modules. The resistance of the metal elements to acids and to cracking caused by stress corrosion was ensured through the use of nickel-molybdenum alloys.
Corrosion-resistant metal too costly for use in processing
As the processing of alloyed metals involves considerable time and money, the developers at W. L. Gore & Associates had been looking for alternative solutions for quite a long time. Although they had already considered plastic before working with Technoform, they had rejected the idea again. It did not seem suitable for the high chemical, thermal and mechanical stress in flue-gas cleaning.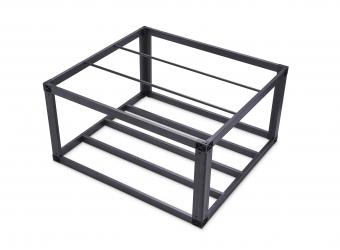 Thermoplastic as a viable alternative
What the developers at W. L. Gore & Associates were not considering at the time was that polyphenylene sulphide (PPS) might be a suitable substitute for corrosion-resistant metals in aggressive environments. It is a technical thermoplastic, characterised by very high resistance to both chemicals and heat and also by a good level of rigidity, making it ideal for use in the GORE® Mercury Control System.
The solution:
plastic sections and connectors for aggressive environments from Technoform
Technoform specialises in the extrusion of thermoplastic profiles. Not only do we supply finished plastic products, but we are also development partners for customised solutions for a wide range of industries and applications such as electrical , automotive and mechanical engineering, to name but a few.  
Working with W. L. Gore & Associates, our engineers have developed plastic profiles for the GORE® Mercury Control System that display the same chemical, thermal and mechanical resistance as the original metal alloy components, but are easier to assemble and adapt.
PPS replaces corrosion-resistant metal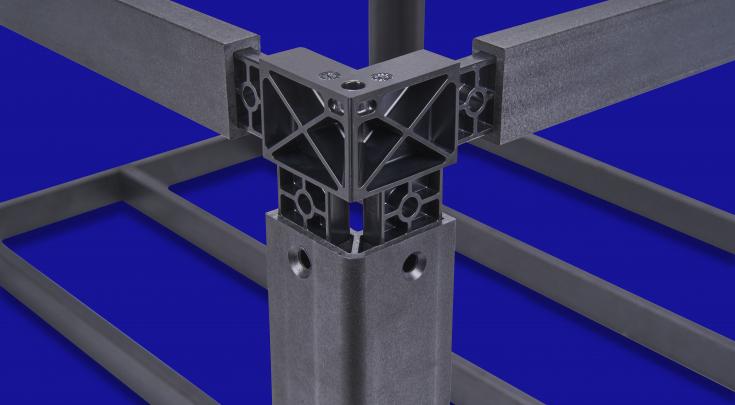 In addition to load-bearing sections made of PPS GF 40, which we develop, customise and manufacture in high-precision extrusion processes, we also use injection-moulded plastic elements for corner connectors in the GMCS modules from W. L. Gore & Associates, replacing the company's previous components which were made of corrosion-resistant metal.
The result:
an alternative plastic solution being piloted after only 12 months of development
This innovation was produced extremely quickly, thanks to rapid profiling and intensive testing in cooperation with W. L. Gore & Associates. Only 12 months after the initial meeting to discuss requirements and potential solutions, the GORE® Mercury Control System with our new plastic profiles and fasteners was being piloted in industrial plants in Europe and the United States.
Where there's a will, there's a way. Thanks to Technoform, we substantially optimised our product within a very short period of time.
Dr. Ole Petzoldt, W. L. Gore & Associates
The very short development period for this type of innovation project was due, among other things, to the fact that the two companies working together were both highly solution-focused and were working in small, flexible teams with short decision-making and communication paths. This enabled us to respond quickly to new requirements as the project progressed and to readjust the direction whenever necessary.
Collaboration:
3 questions for Dr Ole Petzoldt,
W.L. Gore & Associates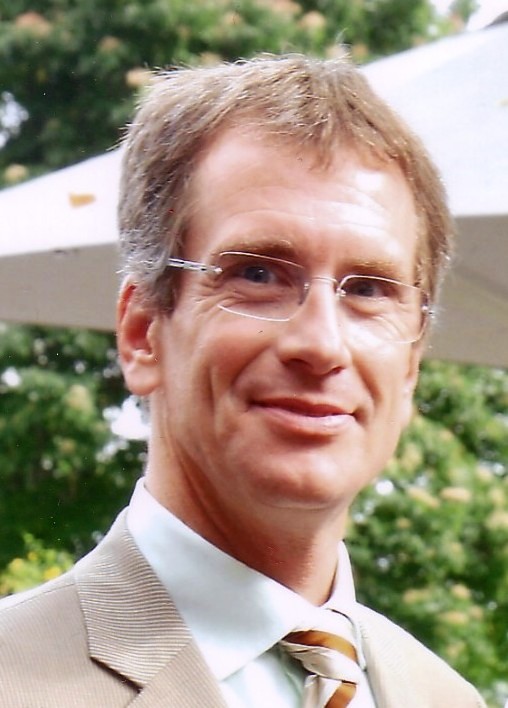 Dr Ole Petzoldt is Business Development Manager at W. L. Gore & Associates and was an important driving force in our project. 
How did W. L. Gore & Associates and Technoform get to cooperate?
At the end of 2019 I gave a presentation of the GORE® mercury filter at the Berlin Sewage Sludge Conference. After my presentation, I had a conversation with Dr Thorge Brünig from Technoform. We talked about ways in which we might optimise our product, using plastic components. 
At W. L. Gore & Associates, we had been thinking for some time that we might want to replace the metal components in our filter modules with alternative materials that are also easier to handle during assembly. So it was a happy coincidence at this conference that I met a plastics expert who could provide exactly what we were looking for.
What was it like working with Technoform, all the way from planning to implementation?
The chemistry between us was just right from the very beginning, both professionally and on a human level. Our companies "tick" very similarly when it comes to agile research and development. Our visions turned into high quality solutions within a very short period of time. What drives us is high quality standards for our products. 
The Technoform team involved us and worked with us very closely at all the stages of the planning and development, both in Germany and in the United States. Our relationship has benefited greatly from a shared vision and cooperation at eye level. We see Technoform as a creative partner who has helped us optimise our product.
What did you learn from the project that you would do differently next time?
Although we are quite knowledgeable about plastics at W. L. Gore & Associates, there are always companies with a deeper understanding and more experience on special issues. Rather than trying to optimise our product all on our own, we saved a lot of time (and probably nerves) through being helped by Technoform, and we achieved an outstanding result within a very short time. 
Personally, I also gained a completely different perspective of what plastics can accomplish. In fact, there's hardly any application where plastic shouldn't be considered as a material for components. Next time we've got a project of this kind, I'll certainly be thinking outside my professional box at an earlier stage. Our project with Technoform showed that this is always worthwhile.
Conclusion:
plastic – a high-performance alternative to metal
Thermoplastics are true all-rounders and are even suitable for applications under extreme conditions, such as flue-gas cleaning. GORE® Mercury Control Systems is a good example, showing that this is also true if, at first sight, there seems to be no way round extremely high-quality metal as a material for system components. 
Working with W. L. Gore, it took us less than a year to develop an alternative solution for filter modules frames – a solution that did not require any metal at all, while still meeting 100% of the requirements for resistance to chemical, thermal and mechanical stress in flue-gas cleaning. 
The use of technical plastic enabled us to simplify the assembly of frame sections. Good solutions are often closer than they seem.