Why certification is important
Twinsburg, Ohio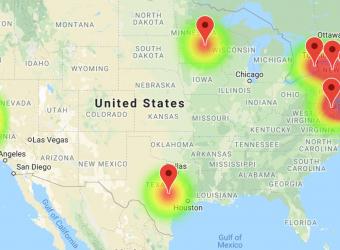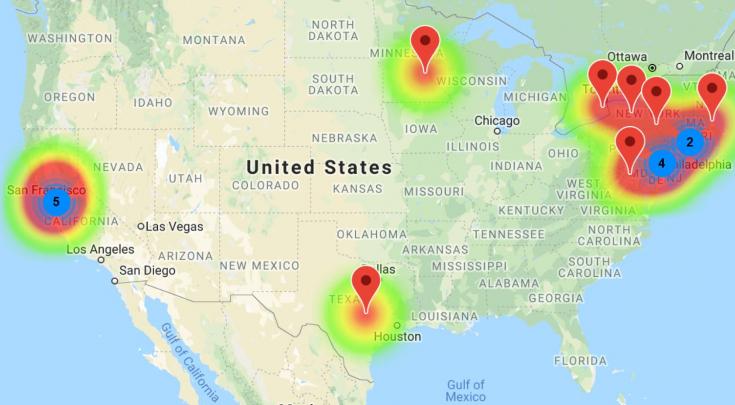 The NACC map of certified contractors show that 18 contractors have achieved certification. A similiar number of companies are in the application process.
Why Certification is Important
If durability is critical for achieving sustainability, what can be done to maximize the lifetime of installed fenestration? The durability performance of fenestration depends on a number of factors – the quality of the design of the window and insulating glass edge seal, the quality of their fabrication (workmanship), and the quality of their installation.
Past performance often is used by design and construction teams as an indication of the quality of product and the workmanship of fabrication and installation, but this only can be relied upon if there are processes in place to replicate past performance on every new unit, and on every new installation. Warranties also often are used in the assessment of "quality," although this should be done with caution. For example, product warranties may not offer enough risk management for owners or installers, because they generally include only product replacement and not the cost of replacement labor, which generally dwarfs the cost of the product itself.
The "magic" of certification
Certification by an independent third party offers companies a way of creating and communicating a level of confidence in a product or service that they offer to their customers. This is because certification programs confirm the attainment of accepted industry standards and, importantly, the presence of a quality system that ensures that this performance level is achieved consistently. David Stutzman, an expert in architectural specification, describes the "magic" of certification in a 2018 article [1], stating that it provides "a uniform measure of an accepted standard to demonstrate qualifications and the ability to reduce risk." Certification is therefore an effective way for design teams to manage supplier risk and an effective way for suppliers to differentiate their offering.
Certification is not just for products
Certifications can exist for people (installers, fabricators) and companies, too. The North American Contractors Certification (NACC) program for architectural glass and metals contractors focuses on assessing and certifying business practices, quality, competency and safety in installation, and is gaining traction across the country. Currently, 18 contractors have achieved certification and a similar number are in the application process. A program for certifying individual installers – the Architectural Glass and Metal Technician (AGMT) certification – is also in development. Eco-systems of several certified installers are growing in eastern Pennsylvania and northern California, raising the bar for installers and reducing risk for construction teams in those markets.
Insulating glass certification
On the product side, certification for insulating glass has been in place for many years, and programs have proliferated since the National Fenestration Rating Council (NFRC) required insulating glass (IG) certification as a requirement to receiving an NFRC label. When looking for a certified IG product, it is important to evaluate the certification program itself. Because there are no standards for IG certification programs to follow, each program has a different level of stringency. All use ASTM E2190 "Standard Specification for Insulating Glass Unit Performance and Evaluation" as the industry durability benchmark, but how they certify to that standard can differ significantly. Look for programs that require test units to be built on the fabricator's production line and in the presence of an auditor. In addition, look for programs that require a passing E2190 report before certification is granted.
Certification is a tool for fabricators and installers to communicate and differentiate the quality of their product or service to their customer, and is also being required by design teams to manage their risk. Overall, certification of fenestration products and installers raises the quality bar and supports the construction of high-quality, long-lasting building envelopes.

[1] D. Stutzman, The Magic of Certification – Solving the Qualifications Dilemma, Published and Presented at GlassCon Global, Chicago 2018.