Thermal optimization for windows, doors and facades
Thermal optimization for your every need
In the search for the lowest possible U-value, there is often potential for improvement in window, door and facade systems. Separating the aluminum parts in windows is the beginning of the journey, but radiation and convection still present significant challenges to insulation. Optimization of the inside of the insulation zone is key to the effectiveness of the insulation. This could be through using one of our standard profiles with hollow chambers or noses to reduce air flow and energy loss, or one of our three approaches below to optimize for thermal performance without compromise.
Our three approaches to thermal optimization make sure that we take your needs into account, from the production system, right the way through to structural and environmental considerations. Let us work with you to find the right combination of solutions to reach your targets.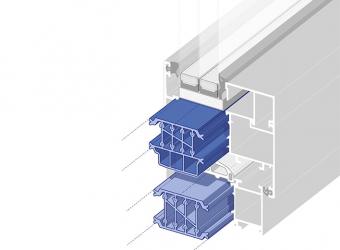 Package solution
Systems requiring thermal breaks present two main challenges: stability and heat loss. We created our package solution to achieve thermal optimization without structural compromise. Our compound profiles are geometrically chambered, like a web, resulting in a labyrinth-like inner profile that reduces convection and provides the required mechanical stability and performance.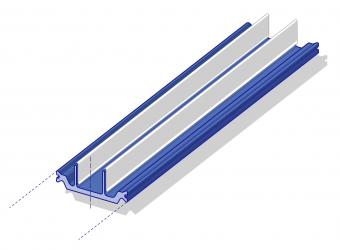 Low-emissivity foil
As requirements for energy saving increase, innovations have to rise to the challenge. Designing a system with inner fins (sometimes known as 'noses') is a big step towards reducing convection, but it doesn't end there. Adding so called 'low-e' foil to the inner fins in thermally broken systems lowers the U-value even further, with a radiant heat reduction and emissivity of n = 0.02 according to EN ISO 10456. This simple but effective solution can withstand 200 °C (392 °F), offers an excellent price-to-value ratio and can even be powder coated or anodized.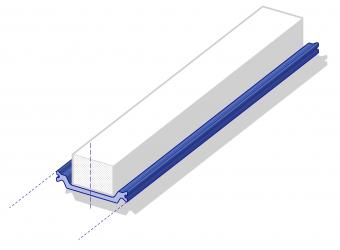 Polyamide foam
To further reduce U-values, foam can be added to a system design—this can easily be added to an existing system without changing the design. What cannot happen, however, is that this causes increased material or handling complexity. Our answer to this challenge? A closed-cell, powder-coatable polyamide foam, which requires no additional handling from you. Environmentally protective with low levels of waste and the ability to be recycled with little effort, this chemically resistant foam solution has a lambda value of 0.036 W/(mk).
Materials for thermal optimization
Other solutions for windows, doors and facades