Fenestration and Heat Gain in Tropical Areas
ETTV and RETV

Thermal Performance of a Fenestration System

Heat Transfer Mechanism
In the tropics, one of the biggest challenges a building owner faces is the cost of keeping a building cool and comfortable for its occupants in an eco-friendly manner. To do so, architects and engineers have increasingly turned to passive cooling solutions to design green buildings, which regulate heat gain and dissipation with little to no energy consumption, enhancing the building's thermal performance. 
This is key as the building façade or envelope is the first line of defense against the external elements, and it accounts for almost 50% of the thermal loads in buildings in the tropics.
In Singapore's context, the thermal performance of the building envelope is quantified through the Envelope Thermal Transfer Value (ETTV) for non-residential buildings and Residential Envelope Thermal Transfer Value (RETV) for residential buildings.
ETTV and RETV estimate heat gain through the building envelope, and it is directly related to a building's cooling load. It takes into account three basic components:
1. Heat conduction through opaque walls
2. Heat conduction through fenestration
3. Solar radiation through fenestration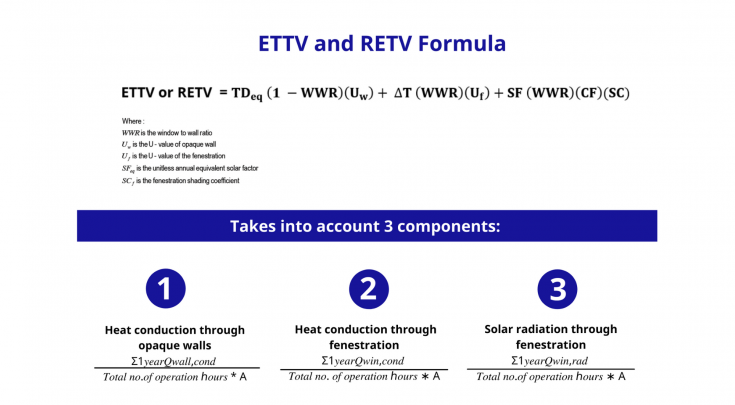 Thermal Performance
The thermal performance of a fenestration is based on the thermal transmittance and the solar heat gain coefficient of the overall fenestration. It comprises of the glazing, framing and the edge of the glass, and all 3 components plays a significant contribution in the thermal performance.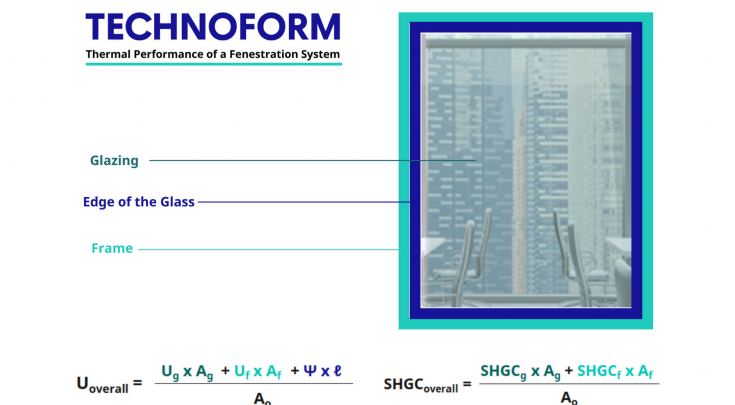 In today's context, do we know where the heat gain is coming from?
Double glazed windows with low-e coating are commonly used in commercial buildings in Singapore, reducing the heat gain through the glazing. We can verify this using a thermal imaging camera, where we can see the areas of glazing being yellow/green/blue in color. This means that the glazed area is relatively cool and there is little heat gain through the glazed area. However, we can see that there is still a source of heat gain into the indoor environment, highlighted by the red region which is the framing of your façade. Hence, we can see that the thermal performance of the fenestration system is not optimized, as there is still thermal bridging through the fenestration frames.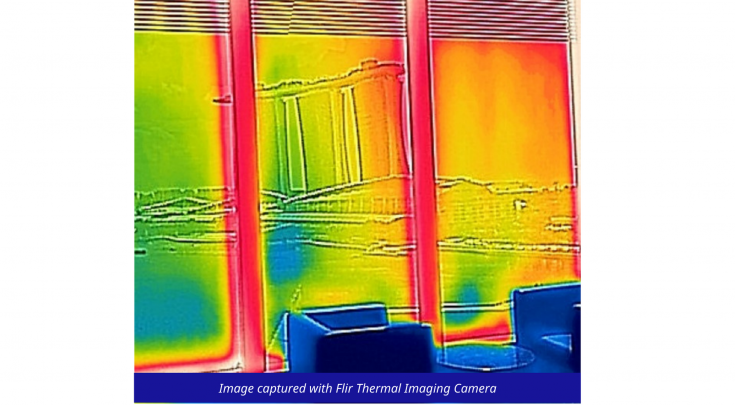 Heat gain through an uninsulated curtain wall
Firstly, let us understand the heat transfer mechanisms that cause the effects we have seen in the thermal image:
Conduction through solid surfaces contribute to ~50% of the heat flow

Convection in cavities contribute to ~35% of the heat flow

 Radiation from warmer surface to colder surface contributes to ~15% of the heat flow
As we have understood from earlier, the thermal performance of a fenestration system is contributed from 3 components, namely the glass, frame and edge of glass. If we optimize the thermal performance of all 3 components, we are able to achieve a high thermal performance fenestration system.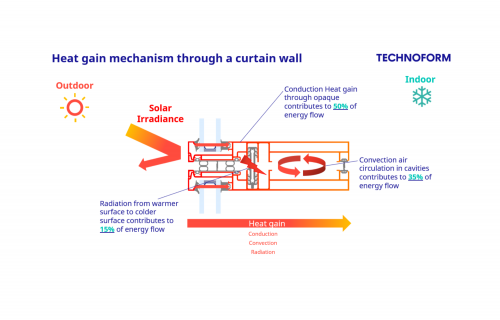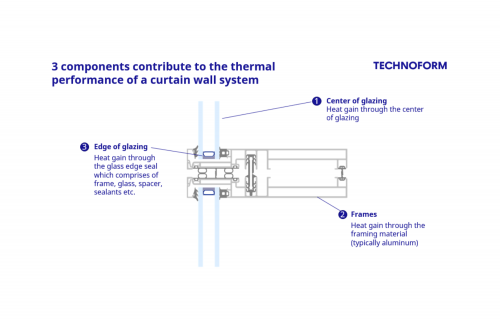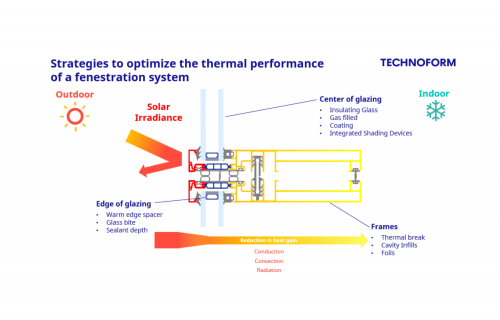 How can our solutions address these challenges?
Thermal Break Technology

Warm Edge Spacer Technology
Thermal Break Technology
Fenestration frames typically represent 10% - 30% of the total fenestration area. It is often made of aluminum, which is a good conductor of heat with a material thermal conductivity of 160W/mK, which is 160 times more conductive than glass.
By using a thermal break, the interior and exterior aluminum sections can be separated, substantially reducing the heat gain through the fenestration frames and ensuring better indoor thermal comfort. Technoform Thermal Break is made of glass-fibre reinforced polyamide, an engineering plastic with:
Low thermal conductivity (~533 times lower than aluminum)
Excellent mechanical properties
Warm Edge Spacer technology
Double glazed units are typically separated by aluminum spacers, which have high thermal conductivity.
However, Technoform Warm Edge Spacer, which is a thermally improved spacer, is made of polypropylene and stainless steel, allowing it to substantially reduce heat transfer at the edge of glazing. The linear thermal transmittance of Technoform thermally improved spacer is almost 2 times better than traditional aluminum spacer.
Our Solutions can be found in the following:
SGBP Directory
The only industry-centric certification scheme for green building products and materials, the Singapore Green Building Product (SGBP) certification scheme aims to aggregate and amass a wide selection of green building materials for the industry through a comprehensive and holistic methodology. Under this scheme, Technoform Thermal Break is certified Excellent (3 ticks) and Technoformm Warm Edge Spacer is certified Very Good (2 ticks).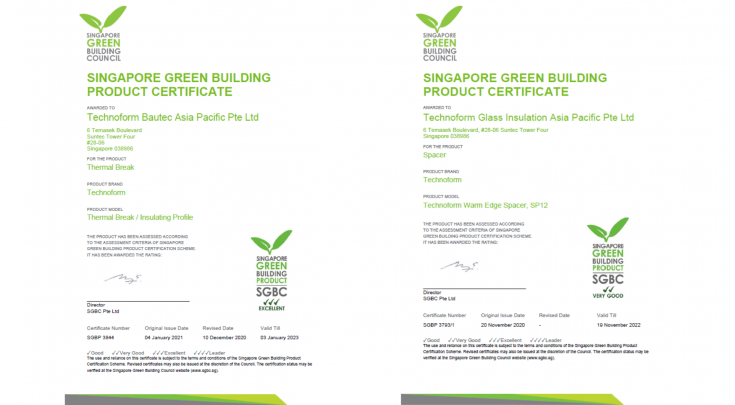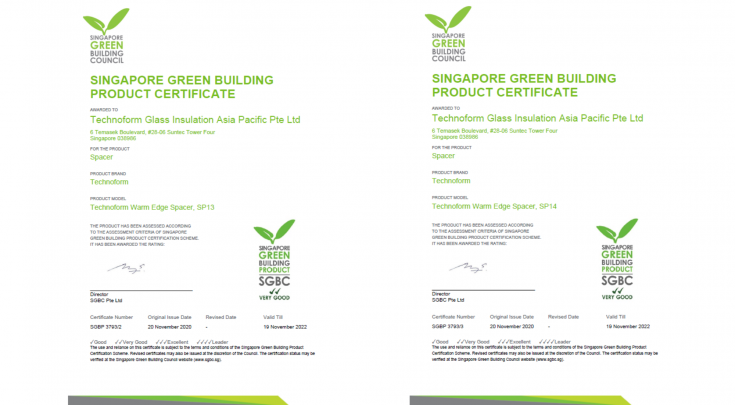 SLEB Technology Directory
An initiative rolled out by the Building and Construction Authority (BCA), SLEB Smart Hub aims to help building owners and developers adopt sustainable and innovative technologies in order to achieve their Super Low Energy target. Our solutions are listed on SLEB Technology Directory, a platform that provides insightful information about energy-efficient technologies.
iNPQS Directory
The intelligent National Productivity and Quality Specification (iNPQS) is a joint project driven by three industry associations, namely, Singapore Institute of Architects (SIA), Institution of Engineers Singapore (IES) and Association of Consulting Engineers Singapore (ACES), to develop a national specification for Architectural, Civil & Structural and Mechanical & Electrical works. 
iNPQS aims to harmonise the industry building specifications and provide a standard platform for achieving greater efficiency and quality in the design, procurement and construction processes.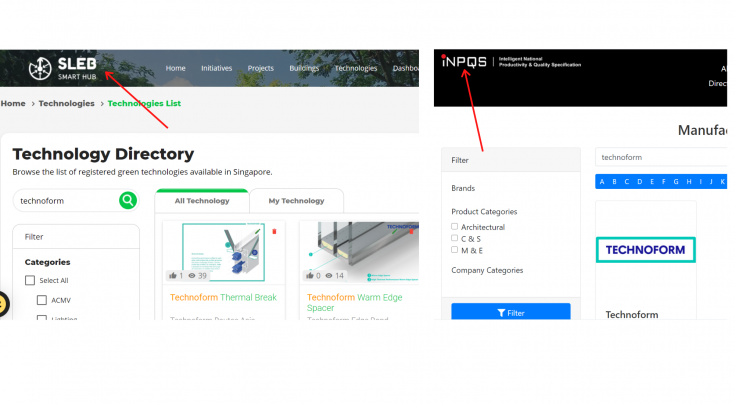 What are the services that we provide?
Consultation on design and optimisation

Support and Documentation

Technical support
At Technoform, we work with our partners to develop thermal insulation solutions for the building facade. Some of the services we provide include:
Consultation on design and optimisation of the thermal zone in facade systems to meet your performance targets

Total fenestration performance simulation to achieve best price/performance ratio

Simulation reports to showcase conformity to project requirements

Durable design for insulating glass edge bond performance

Support and documentation for the specification of thermal break and warm edge technology in your windows and facade design

Technical support for thermal break assembly process & IGU manufacturing process
Architectural Specification Sheet