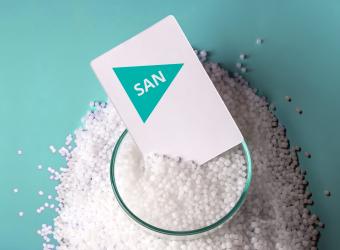 Styrene acrylonitrile resin (SAN)
Styrene acrylonitrile resin is a copolymer plastic that is especially tough and resistant to chemicals
Used across a broad range of industries including the food, medical, construction, electrical engineering and sanitary engineering industries
Transparent and resistant
Styrene acrylonitrile copolymers are transparent, making them the material of choice for clear, transparent parts. The acrylonitrile contained within the material increases viscosity and resistance to chemicals and makes SAN even tougher. Diluted acids and bases, fats and oils cannot damage the material. Embedded glass fibres in SAN lead to a product with high stiffness that can for instance be used for winding bobbins in the electrical engineering industry.
Broad applications
Due to its tough properties, SAN is most frequently used to manufacture housing components subjected to high stress, but it is also well-suited to flat parts. Bathroom fittings, shower cabins, counters or packaging are frequently made of SAN. Approved for use in the food and beverage sector and dishwasher-proof, SAN is often used for kitchen utensils.
Custom-made profiles
Whatever the application, our team of experts is on hand to help provide the perfect solution. Our high-precision extrusion method creates hard-wearing, precise profiles to suit your individual needs and requirements.
Solutions with styrene acrylonitrile resin