High thermal performance spacers
As we combat climate change across the globe and move towards net-zero-energy buildings, even higher thermal performance of the insulating glass is required. One of the ways this can be done is to further reduce the thermal conductivity of the spacer. Replacing the stainless steel in our spacers with a metalized foil and using an engineered styrene acrylonitrile resin (SAN), allows us to achieve the lowest thermal conductivity in our offering.
Our innovative high-precision extrusion process differentiates our high thermal performance spacer compared to other spacers in this category. Our dimensional precision minimizes differences between the published thermal performance values and the produced insulating glass units. The resulting spacer has a high-quality smooth, bright surface finish with slight rills which protect the spacer from scratches and dust pollution. Due to the orientation of the glass fibers, our spacer does not irritate skin while handling. 
Durability considerations are extremely important when using high thermal performance spacers because they do not use a solid metal vapor barrier. These spacers should only be used in combination with certain sealants which have been tested in combination with the spacer and performance verified to ensure long-term performance. The multilayer design and the way that we apply our metalized foil maximizes the barrier performance. Of critical importance, a high fracture strength prevents cracking during insulating glass manufacturing.
It complies with the requirements of EN 1279-2, 3, 4 and 6, CAN/CGSB-12.8, DTA, and the RAL quality and test regulations with applicable sealant systems. It is certified by Cekal and CSTB and is a certified Passive House Component Class A (Artic Climate).
Click for brochure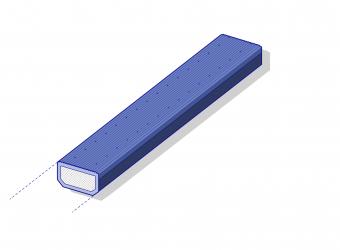 Designed for highest thermal performance
SP16
Certified Passive House Component Class phA (Arctic Climate)
Low and consistent thermal conductivity due to tightest dimensional tolerances (± 0.05 mm, compared to the typical ± 0.1 mm)
For cut and corner fabrication
Other edge bond solutions for insulating glass